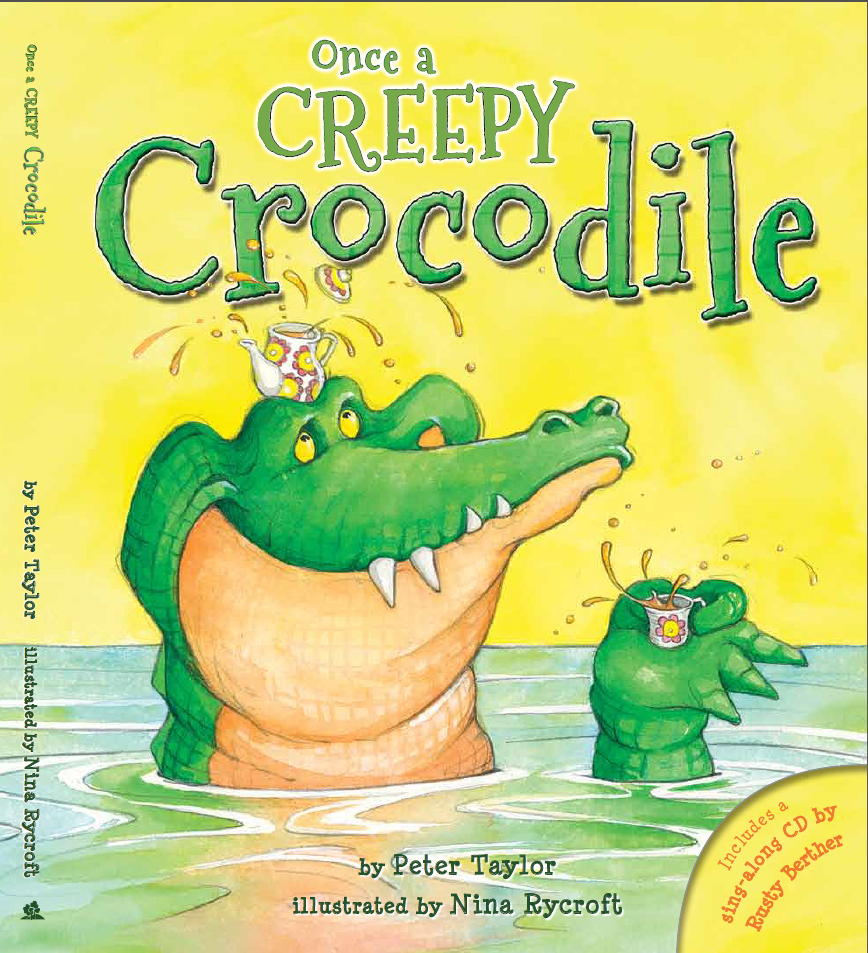 …Here is a wonderful combination of talent that makes this book a real winner.  No young child up to junior primary, and, I suspect, adults who share, will fail to enjoy this book and its accompanying music.   John Cohen – Reading time   http://readingtime.com.au/creepy-crocodile/
Author: Peter Taylor
Illustrator: Nina Rycroft
CD Rusty Berther
Published 2014 –  The Five Mile Press, an imprint of Bonnier
ISBN : 9781743467282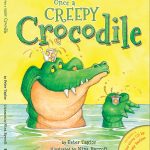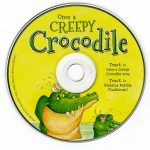 (Click small images for High Res)
Yay!!! It was Shortlisted for Speech Pathology Australia's 
Book of the Year Award, 2015
Once a creepy crocodile crawled toward a river bank,
He spied a baby brolga by a bottle-brush tree,
And his tail wagged and wiggled while he winked and grinned and giggled saying,
'Please come and join me for afternoon tea.'
'No!' squealed Echidna. 'Stop!' croaked the tree-frog,
'Run,' cried Koala, 'he'll eat you don't you see?' … …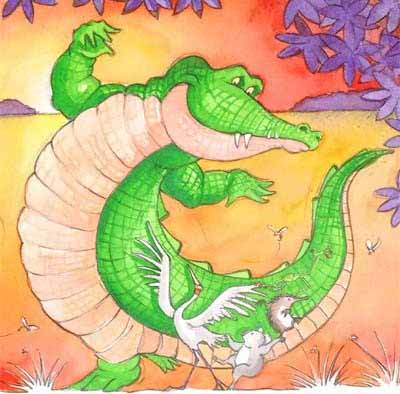 Yes, the words are to the rhythm of Australia's unofficial national anthem, Waltzing Matilda. I wrote the story for children aged 3 and over, but I know it's enjoyed by 2 year-olds as well. Unfortunately, the publisher, Bonnier, closed their Australian Five Mile Press imprint in 2018 and new copies of the book are hard to find. Maybe you'll locate a secondhand one which contains the fun sing-along CD by Rusty Berther. This also includes the traditional Waltzing Matilda song.
HOWEVER…
…You can still read the story. The words are provided on the FREE sheet music which can be downloaded using the links below. Older children may like to play it with a musical instrument or sing it:
for voice or a recorder or similar instrument
for two recorders or instruments, or two voices…or a choir
There are many ways the tune can be arranged. These versions are not intended to completely match the recording on the CD. Feel free to create a totally different arrangement. Many thanks to my music teacher daughter, Emily, (Emily Taylor Music) for these transcriptions!
The characters are all Australian wildlife creatures. Photos and facts about them are provided at:
Nina has drawn an outline of all the ccharacters to print, colour, cut and attach to paddle-pop sticks (or similar) and create your own version of the story. …Or to tell your own. Download the sheet from this link: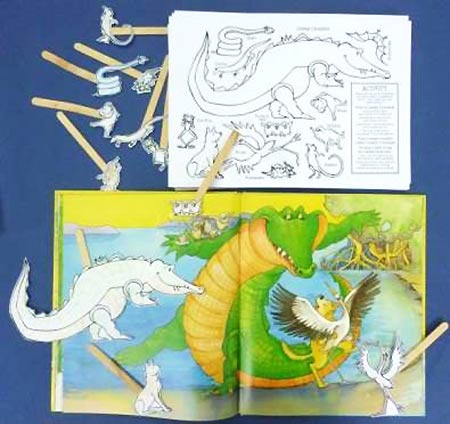 I recommend taking the PDF file to a store that will print it on thin cardboard, A4 or similar size (…or possibly A3).
If you add your performance to YouTube or elsewhere, please let me know. I do hold copyright to the words and will appreciate an acknowledgement and inclusion of the name of the book.
The story behind the story: some background on its creation
The story is only 239 words long, but was not written 'finished' – it took quite a while to evolve…a very long time indeed if you count my reading history, experiences listening to words being used and my writing practice, study and networking.
It was started in a workshop with world-famous author and illustrator, Jan Ormerod. This had been organised by the Ipswich District Teacher Librarian Network and was held at the 2009 Ipswich Festival of Children's Literature. Fellow author Julie Nickerson and I came up with three possible verses on the day, and I asked Julie if she intended to keep working more on it, or if she'd mind if I carried on developing the text myself. She very generously agreed that I could make it my own, but it's really partly hers, and it has also had input from many other writers in networks to which I belong.
After I'd written a considerable number of drafts and versions, I first pitched it to a panel of editors and agents at the 2010 International SCBWI Symposium in Bologna (the international Society of Children's Book Writers and Illustrators). Only NZ agent Frances Plumpton was encouraging (the others questioned whether children in the US would be interested in unfamiliar creatures such as a dingo and a brolga). I also met editor Helen Chamberlin from Windy Hollow Books there, and she later suggested the addition of extra verses. After more work over a period of months, it was entered into a competition. Though it scored highly from the judges, it didn't make it to the shortlist for a prize. Months later it was loved by Karen Tayleur, managing editor of the Five Mile Press when she did a paid appraisal of it at the SCBWI International Conference in Sydney.
With Karen's enthusiasm shown, I thrust a copy of the story into the hand of one of my all-time favourite illustrators,  Nina Rycroft, as she was about to leave the Conference, and I asked her if she'd consider illustrating it if a contract was offered. Though the publisher decides and usually chooses a book's illustrator, I was able to inform The Five Mile Press that Nina was willing and available if they wished to approach her.
But there was a problem. Was the rhythm of Waltzing Matilda copyright, or the music, if it was recorded? Australia had to pay a fee to a US copyright-holder when 'Waltzing Matilda' was sung in the stadium at the Atlanta Olympics. Apparently this was solved and it was accepted for publication in February 2011. During the time that Nina was busy painting, the text was again improved with Karen's editing and also to ensure a fit with Rusty's musical arrangement.
It became available in July 2014, so its creation was a lengthy process, but some books take many more years to reach the shelves than was my experience with this one.