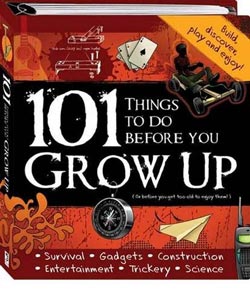 Publisher:  Hinkler Books, 2009
ISBN 10:  1741826764
ISBN 13: 9781741826760
Binder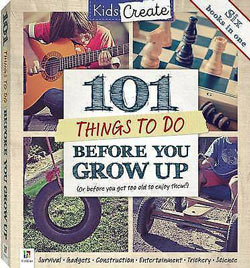 Publisher:  Hinkler Books, 2016
ISBN 10:  1488929807
ISBN 13: 9781488929809
Binder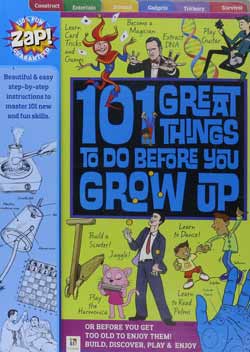 Publisher:  Hinkler Books, 2015
ISBN 10:  1743631650
ISBN 13: 9781743631652
Paperback
Author:  Peter Taylor  –  Science Section and Survival Section  –  all editions
Two sections each: George Ivanhoff and Sofija Stefanovic
Written for ages 6-12
I've been around the Australian children's book scene since about 1998, when I studied for a Diploma in Professional Children's Book Writing organised by the Australian College of Journalism. Since then, I've contributed to newsletters and been on national and local committees of writing associations including the Children's Book Council of Australia. In my 'apprenticeship' years, I wrote a large number of unpublishable stories, but in 2008, I asked an editor I'd never met for virtual friendship on the Jacketflap social networking site. I've no idea how she knew of my existence and writing skills, but along with acceptance, she asked if I'd be interested in a project…a two section, one third, contribution to 101 Things to Do Before You Grow Up for Hinkler Books. Yay! My first traditionally published book for children.
The first edition was released in 2009. As well as the text, I also supplied sketches for illustrations that were later transformed by a graphic artist to produce continuity across all sections. Since then, Hinkler Books has released two new editions that are still in print.
"Everybody has to grow up one day. But before you do, make sure you have a whole lot of fun! Whether you're young or just young at heart, you'll find something to fire your imagination. Discover a world of new and not-so-new things to learn and do. With all sorts of practical and interesting activities ranging from making a scooter and learning to juggle, to building an electromagnet and extracting DNA in your own kitchen – there's never an excuse to be bored!"
My favourite activity that's included?  Extracting DNA in your kitchen.
Amazon Reviews: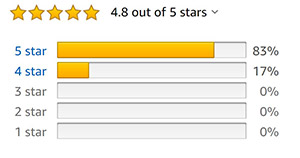 "This is a must have book for every household with kids… or husbands LOL"
"Grandson loved it"
"My husband has been asking me to get this book for awhile. Both of my boys are LOVING the ideas in here!"